Fairs and Festivals: The Perfect Venue for Comedy Stage Hypnosis
When I attended the AIFE (International Association of Fairs and Expositions) convention in Las Vegas last year, it was amazing to see so many comedy stage hypnotists with booths and meeting with festival organizers to book comedy stage hypnosis shows at events throughout the country. There were as many hypnotists represented as their were bands, children's activities and variety entertainers.  But the reason is simple: There is not better entertainment at a festival or fair than a comedy stage hypnosis show.
The reasons are simple: Because the stars of the show are the community members that attend, a comedy stage hypnosis show creates excitement at a level other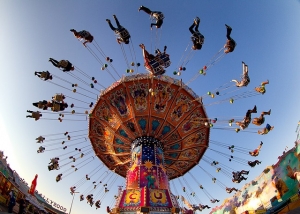 entertainment cannot create, and it bring people together as they get to see their friends and family participate in the entertainment. And isn't that really what a fair is all about?  Creating an experience that is enjoyed, not just an event that is seen?
One of the other reasons a comedy stage hypnosis show is the right choice for a fair or festival, is because all ages can both participate and watch. When I do shows at fairs older children, teenagers, college kids, parents, and adults, and even the old timers come on stage and participate. This makes for a great dynamic, showing that the fair is an event for all ages.  Of course, my shows are also appropriate for all audiences, it is wholesome entertainment and I always perform clean hypnosis shows.
Comedy stage hypnosis shows can be performed in both indoor venues and outdoor venues. People often think that a hypnosis show must require a quiet background to work, but the reality is all that is needed is a good sound system, a lot of people who want to have a good time, and a safe stage. The background noise of a fair, just adds to the excitement, and can even become part of the show!
Are you a fair planner? Contact me and discover how my comedy stage hypnosis shows can become a part of your fair or festival. I am happy to perform single event performances, or long engagements in a multi-day event with multiple shows. Are you a community member anticipating the fair in your community?  Let the organizers of the event know about my webpage and have them bring a comedy stage hypnosis show to your town.
And this is another reason fairs and festivals are the perfect venue for comedy stage hypnosis. Unless one lives in a big city, with comedy clubs or perhaps a university, the likelihood that a comedy stage hypnosis show has performed in your area is small. And so, unlike a band or an animal act, this is something new and never seen before! You want your fair to have original content and bring something to the community that is rarely available.
Contact me at Mariana Matthews, That Lady Hypnotist at (425) 248-7676 or email using the form below and discover how you can bring comedy stage hypnosis to your fair or festival!